When Associated Charities' leaders first began thinking about raising funds to build a new facility, they faced a number of challenges. Although they had been providing short-term emergency financial assistance and food to Ashland County (Ohio) residents for over 100 years, many people in the community were not familiar with the full scope of services and programs of this essential nonprofit organization. Having outgrown their current (and outdated) building, but concerned about the success of undertaking a capital campaign without more information, Associated Charities hired GoettlerAssociates to conduct a campaign planning study.
Over the course of three months in late 2014 and early 2015, Goettler conducted the study,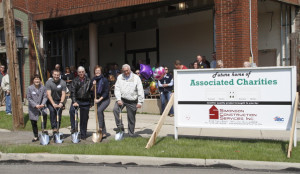 which proposed a $1.5 million campaign to build a brand new facility. The study uncovered some interesting results. Leading members of the community, and likely prospective donors, were not sold on Associated Charities' plans to build a new facility on a vacant plot of land. Rather, people hoped the organization would utilize an existing building located closer to their downtown location. In addition, study respondents strongly recommended that the organization plan to raise funds for an operating endowment, as part of the $1.5 million goal. Associated Charities's leaders shifted their focus from building, to buying and renovating. They then committed to raising $1.2 million for construction/renovation and $300,000 for an endowment fund at the Ashland County Community Foundation. The project budget was set, and the leadership team got to work finding a new location.
Skeptics in the community did not think Associated Charities would pull it off. While their $1.5 million campaign goal may not appear to be overwhelming, it was seven times more than their annual operating budget. The Goettler campaign planning study was able to provide timely and accurate guidance, which enabled them to move forward with confidence. Further, Goettler's recommendations provided a successful strategy to quickly recruit campaign co-chairs and other strong campaign leaders. Utilizing Associated Charities' committed volunteer base, and the leadership skills of its Executive Director Rosemarie Donley, a vacant building in downtown Ashland was quickly identified and secured to serve as their new home.
Thanks to important information identified through the planning study process, Associated Charities was able to reach and exceed its campaign goal in just under six months. Had the organization moved forward with a capital campaign before taking this important step, Donley is unsure they would have found success. "We could have never envisioned doing this without GoettlerAssociates." Associated Charities broke ground on their renovations to the building in March of 2016. They plan to move into the space this fall.
Congratulations to yet another Goal Getter!
To read more about this Goal Gettler, click here
Click here for PDF version: FRM 65