Thank you for visiting the Goettler Associates website!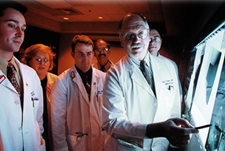 We hope the information you obtain is helpful and welcome your return in the future.
We want to learn more about the current status of your advancement program.
A senior member of our team is available to discuss your future plans and share our insights and ideas for advancement. We offer a preliminary consultation without cost or obligation.
Home Office:
Goettler Associates, Inc.    614-228-3269 voice
580 South High Street          614-228-7583 fax
Columbus, OH 43215           800-521-4827 toll free
Website: www.goettler.com
email us: info@goettler.com
We use a third party email delivery service, so we also encourage you to register to receive email notifications when new Resources and Fund Raising Matters articles are posted to our website.
Of course, we wouldn't ever think of sharing your contact information with anyone else