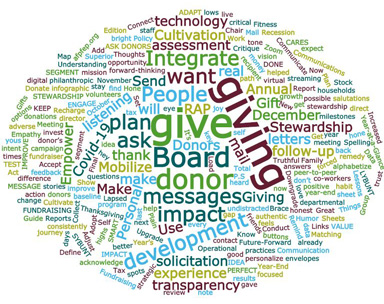 In a FONK (Fear of Not Knowing) about your Covid-19 year-end fundraising? Here is a check list of 50 things you can still do before year-end (actually, it's more than 70) to make your year-end fundraising appeals more successful.
Lori Overmyer, Executive VP of GoettlerAssociates has developed a fun and fast-paced seminar on this topic (and now webinar) over the past few years. And, she has thoroughly updated and expanded the year-end checklist for our pandemic-wracked lives We hope this provides you with the inspiration to strive toward greater impact in these next two crucial months of a very unusual year.
Countdown to December 31 2020
56 days and counting . . .
You still have time to make an impact!
The Sky Is Dark, But Not Falling
Lessons from the Great Recession

Households who give, give consistently even in adverse times
2007-2010: many people did not stop giving; dollars decreased but percentage of Households giving did not
KEEP FUNDRAISING! Giving is a habit.
It's (Still) All About the Data
Run your LYBUNT and SYBUNT reports – don't miss anyone
Add salutations and SEGMENT
Run the Fundraising Fitness Test using 2019 as your baseline year –afpfep.org
Communications
Adjust and hone your messages to acknowledge Covid-19

How they are doing
How you are doing
What you are doing

Remind your donors of their philanthropic intent while recognizing changes may have occurred
Your story of impact and what their donations make possible for the community is more important than ever
Collect stories to show the continued relevance of your organization

Personalize and bring it home

Connect (frequently) with those you serve
Integrate your stories through all platforms (channels)
Everything you are thinking goes with you; tone is critical

Empathy
Understanding
Superior listening

Humor wins the day
A great time to find out what your organization means to your donors- ASK THEM!
Communicate how donor gifts made a difference before you ask

72% of donors say that impact and results are very important factors in deciding to give – it is still true!

Use technology

Zoom (of course)
Try live streaming

Year-at-a-Glance

Let them know the bright spots
Mail is making a comeback!

Increased transparency
Have a laser-focused donor message, based in fact, not speculation

What revenues are in
What you expect to bring in and sources
What you predict will/will not come in
What is the gap?
Cultivation
Critical fact-finding: what does a donor to your organization experience?

Map out your donor journey

Define your value exchange
Board thank-a-thon
Complete your Stewardship Calendar

Don't have one? Top of the list for 2021- it still matters

Gather a group of champions

People trust a guide with a plan

Mobilize technology!
Solicitation
Giving Tuesday – do it!
Send digital solicitation communications to non-respondents the last 4 days of the year

Suppress those who already gave
Did you miss any thank yous? Mea Culpa with sincerity

Use RAP Sheets (Relationship Advancement Program)

Write down what you will be saying to donors in an organized fashion

Plan a RAP sheet action and partner for every month

People will give more when they believe they matter and even more when they decide they matter

Test your messages
Multi-channel
Integrate giving options

Links in direct mail
Donate Now buttons
Matching/Challenge/Stock Gifts
CARES Act 2020 Tax change

Board giving at 100% !
Add a personal P.S. to solicitation letters
Hand-address envelopes
Do a handwritten ask
Send a note with a picture of a program recipient
Personal follow-up
Mobilize your volunteers through a peer-to-peer campaign

Empower friends and family

Hone your messages for each segment

Same
Upgrade
Downgrade
Lapsed

Make the most of every day – 40% of all gifts are contributed between October and December
Don't drag in December

The average person makes 24% of his/her donations between Thanksgiving and New Year's
Donors who don't give until December give 52% more

Not a time to fake it till you make it

Know exactly what you want
When you want it
Why you and Why now
What it will do
Who else you are asking
A follow-up that summarizes the conversation
Set up the next meeting

Show up as your best true and authentic self
Don't "fill in the blanks" for donors
Ditch the "never before" comparisons
Make the ask the donor's idea

Questions focused on the donor
75% donor talking 25% you
Total listening mode with undistracted eye contact
Load up on answers to key questions

People want to be heard and they want to help you!
Operational
Adopt a forward-thinking sensibility
Adapt to the current situation (now lasting much longer than we thought)
Improve your development practices, every day
DONE is better than PERFECT
Be on the path of remedy, not reaction

What policies would have helped you at this time?
What programs/events/committees can you bless and release?

Hold an Annual Meeting
Conduct a Board 360 assessment

Board
Self
Chair
Include staff feedback

Conduct a year-end review of departmental milestones

Be honest about the highs and lows

Annual Report

Consider an infographic
Spelling, alphabetize
Double-duty for stewardship

Vow not to go back to "same old"
Kick the tires on your mission and vision
A great time for a strategic plan (in two parts)
Review your IDEA Policy

Don't have one? Top of the list for 2021
Future-Forward
Nonprofits that develop a dedicated and strategic campaign to engage donors experience growth in giving
Get your development plan ready for this time next year – SMART goals – you still need them
Critique and improve your virtual fundraiser and learn from others
Prepare 2021 tax letters

Separate from donor thank you

2020 was tough, 2021 may be tougher – find the baseline that makes sense
A confused development director doesn't ask, a confused donor doesn't give – communicate your plan!
Final Thoughts
Brace yourself: Every week there is and will be a new report
Where do you see your best future and what do you need to achieve it?
Get the mail! (Seriously)
Recharge your batteries as much and as often as you can
Accept what you can and cannot control
Work to stay positive

My work has real impact
Donors get real impact from giving
It feels good to invest
There's joy in giving back
People love to give me money

Don't believe your own press
Remember your co-workers
This is a time of forced opportunity
Good Luck! We hope this check list of actions and tactics you can still do to have a successful year-end is helpful. If you have a question, just give us a call. GoettlerAssociates has been helping clients raise more of their true philanthropic potential for 55 years. Stay safe, wash your hands, call fundraising counsel, we know things will get better, and we're confident you will have the best year-end possible!
Recent Blog Posts: