Raise your hand if you know more about the Spanish Flu of 1918 than you ever dreamt you would. If "goodbye" has been replaced by "stay safe and stay healthy." If you have grown weary of the phrase "Don't let a good crisis go to waste" or some variation thereof. What else have we learned these past weeks?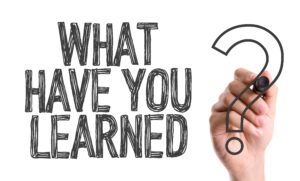 Can a rainbow be found at the end of this pandemic storm? Can we find deeper value and direction in our work as a result of this incredible disruption? Can we learn a few lessons from our recent trials of Covid-19 to create more positive outcomes in the future?
Here are three quick thoughts for this week on lessons learned and how we will endeavor to move forward to create success and positive outcomes:
1) Pursue rapid problem-solving and embrace innovation.
We have been forced to incorporate technology not as a tool but as THE tool. We are improving remote meeting practices that thankfully help to eliminate those time-wasting sidebar conversations. We are converting labor-intensive fundraising events into virtual toasts and online auctions, and converting event sponsorships into direct agency support. We are diving more deeply than ever into budget analysis and program evaluation to prepare for an inevitable reduction of expenses.
Perhaps, as a result, we are discovering there may be a different and better way to operate. Can the more expensive full-color (and way-too-long) annual report that "we always do" be converted into a creative infographic that clearly and succinctly shouts IMPACT? Can we substitute the costly event for an appeal that yields more returns – not just in money, but in terms of relationships? Can we turn stale meetings into significant exchanges of ideas? Now is the time to line up the sacred cows and tired practices and give them the boot.
2) Increased resiliency for the next crisis.
We hope we will never see the likes of this pandemic again. But adverse financial situations and pressing organizational challenges – along with floods, fires, and hurricanes – are regrettably in the future for most of us. The measures taken now by your organization's board, staff and volunteers to survive and eventually pull through this crisis will make your organization stronger. Is there a policy that would have made your work more effective during this time? Is there a board/staff communications system that would have added clarity to confusion? Is there a board committee that would greatly enhance your volunteer leadership – or is there a committee that needs to go away? In times of great stress, small fissures can become enormous cracks. Take note of what you really need and shore up your operations for the next round.
3) New levels of cooperation and systematic change.
One of the extraordinary things we have witnessed across many communities is the coming together of large organizations and systems, working in tandem to combat Covid-19. Arts groups are promoting one another's virtual programs. Food banks are doubling down to ensure small pantries can still serve their ever-growing clientele. How can we, in our respective communities, use this time to establish new and exciting collaborations? How can we harness the talent of our own team, and that of others, to restructure events, activities and programs for greater efficiency and effectiveness? Let's all promise that, when this is over, we will never say "We've always done it this way" ever again.
And one final thought: Let's vow to turn "I don't know:" into "I don't know but I'll figure it out." Stay positive and focused, and rest assured that our work as professional fundraisers is essential. Be smart, act smart, stay healthy, and give us a call. Together, we will overcome these challenges
Recent Covid-19 Blog Posts:
Recent Blog Posts: