Memorial Day – the traditional beginning of summer – looked like no other this year. But with it came the news that, in many parts of the country, people began to look at the gradual reopening of our economy. Somehow the word "reopening" is too facile a term to adequately describe what we have all endured. . .perhaps re-emergence is a better way to describe this move from not-normal to next-normal.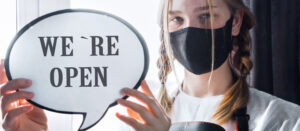 We are about to learn how the pandemic has shifted the attitudes, values, concerns and opinions of our nonprofit leaders, volunteers, funders, patrons, and customers. Moving forward, we believe that resilience, realism, and trust will best serve as the guidewires for the nonprofit sector's re-emergence.
1) The resilient organization understands the scope of the Covid-19 upheaval.
The traditional annual and major gift fundraising tactics that we instituted year-after-year no longer applies for most. Resilient organizations know that their future operations cannot be as they were, but must be infused with new ideas and structures that go beyond a "return to normal."
Executive and volunteer leaders must move from getting through the day to anticipating a stronger future (that is still unknown) and offer the support required to move everyone in that direction. Development directors must communicate this vision while continuing to fundraise. A recent white paper from SMU|DataArts and TRG Arts states it well: "These challenging times call for a move in energy away from desperation and defeat and towards a passion for the communities that organizations were formed to serve." Going forward, our gaze must shift from a frenetic inward focus to the needs of our communities, and some that may be dealing with the Covid-19 upheaval well into 2021.
2) Realism must rule the day in all areas of nonprofit management.
It has been estimated that some organizations, especially those dependent on class fees, ticket sales, restaurant proceeds and other earned revenue sources, may be looking at 25 percent reductions in overall income through 2021. The financial skills required to move from crisis survival to ramping-up will require changes to your operational structure. The Payroll Protection Program benefitted a number of nonprofits, but in some cases may have delayed the reality of this difficult question: Can you take every program and every team member through to recovery?
The ability to handle this financial crisis will require moving from reacting to reinventing, and from panic to planning. Visioning the successful recovery of your organization means a laser-focus on those programs and services that are core to your mission and stripping away the excess. And as every development professional (and, we hope, their supervisor) understands, one great Giving Tuesday response or successful year-end mailing is not going to resolve their organization's larger longer-term funding needs. Perhaps the most trying situations are yet to come. Transparent and honest communications with and support from your volunteer leaders and stakeholders will be critical.
3) Trust the value proposition of your organization.
Your value proposition is now defined by what you have provided to your community in the past – and also what you provided during the pandemic, as well as the value you intend to provide going forward. Can your donors clearly define what benefits you provide? How your organization solves community problems? What to expect from you in the future? These are essential communication message points that must be defined and serve as a continuum that demonstrates that, as the oft-used corona phrase goes, "We are in this together." Remember that donors give THROUGH you, not TO you.
What to expect now? Recovery may be slow for many, but change will happen. The shock will wear off. Patrons and donors will come back. In the interim, nonprofits must work to demonstrate to their supporters that they are investing in a resilient organization, with realistic financial management, and one that clearly understands and communicates its value. Not sure where to start? Now may be the perfect time to call Fundraising Counsel to navigate your organization's successful re-emergence.
Recent Blog Posts: