Last week we stressed the importance of defining a worthwhile project as a key part of your major gift fundraising strategy, but identifying your organization's Big Idea may be more challenging in our shifting social and economic climate.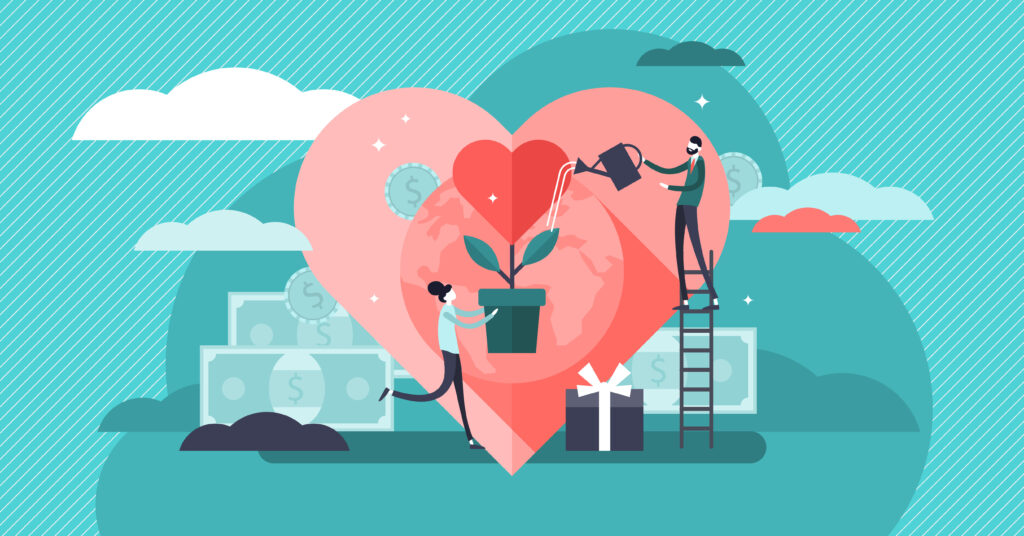 It seems that forecasting and strategic planning has become more difficult in recent years and exceedingly more difficult as we re-emerge from the pandemic.  What will the Fall of 2021 bring?  Casting our Big Ideas and campaign objectives against a larger plan may actually look good today and unreasonable with tomorrow's inevitable change.
We all recognize that our Big Idea and funding objectives should respond to a need that is perceived as urgent, but with all the social and political upheaval of the past 18 months should our quest for major gifts follow today's headlines and shifting national dialogue?
We learned during Covid that donors want to know the impact that your organization is having. Donors want to know how your programs, services and efforts are positively affecting your constituents. In the last year and a half, donors have told us they want greater transparency and accountability regarding the use of their contributions, and the difference these gifts make in the broader community. One of the greatest mistakes a fundraiser can make is to assume that they already know what donors want to know without asking the donors themselves.
Implementing the second essential element calls for a clear definition of the role of philanthropy. This means not only defining an appropriate role for private philanthropic donations, but also an appropriate and respectful role for the donor's views and opinions. Listening to donors and seeking their opinions and input on what they believe is urgent is a critical characteristic that differentiates successful organizations.
Constantly monitoring the views and perspectives of your donors is essential to navigating the road ahead. They will tell you what is changing in the community and within your constituency; they will tell us what is truly compelling; and they will tell you where they believe their philanthropic investment is most urgently needed.
The world is moving too fast to turn the development of your next Big Idea and your major gifts appeal into a game of trial and error. Understanding your donor's perspective, opinions and desires will keep your Big Ideas, and major gift appeals focused on raising the most.
Example of Essential Element #2. "A worthwhile project" at work.
One way to demonstrate this element at work is to share an actual experience we had with a client. This nonprofit client had a really Big Idea, and hired fundraising counsel to help them with implementation. The executive director explained the really Big Idea to counsel in their first meeting as follows: "If we could raise $100 million in endowment, we would never have to raise money again, and we could stop spending so much time talking to donors and trying to raise money every year."
What nonprofit executive wouldn't want to totally endow their annual operations? So let's put this to the test:
Would that Big Idea build the capacity of the organization on a permanent basis? Answer: Not really. Permanently endowing the nonprofit's annual budget may eliminate the need for annual fundraising but it would also diminish and likely eliminate the ongoing voice of donors and constituents and the potential for other fundraising appeals.
Does that campaign's Big Idea respond to a need that is perceived as urgent? Answer: No. The nonprofit may be inconvenienced by annual fundraising, but that doesn't mean the donor will be inspired to give exponentially more than ever before.
Does the Big Idea reflect a future vision of what more the nonprofit could do? Answer: Not really. The stated need to endow the organization was not conveyed in what more it could do, but in what it would not need to do.
The Big Idea objectives should also make sense as part of a larger plan that shows exactly how the organization expects to get where it wants to go based on the needs of those it serves. Answer: Again, not really.
Finally, the Big Idea objectives must be an appropriate focus for private philanthropy, and an appropriate role for the donor. Answer: Again, No. Endowing an organization's annual operating budget so that they never have to talk to their donor constituency is probably not high on a donor's list of desired accomplishments. Nonprofit organizations are often complicated and sometimes convoluted institutions. Donors play a vital role in ensuring that these organizations and associations remain responsive to their communities and provide a clear benefit to the public.
Major gift fundraising is inspired by Big Ideas. Make sure that your Big Idea is properly developed and presented to raise more money, for an endeavor that is perceived by your donors to be truly worthwhile.
Links to previous Road Ahead Blog posts: