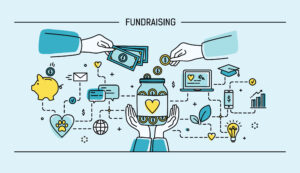 As the dust settles from Covid-19, we are discovering that the Road Ahead is fraught with concerns and challenges similar to the shutdown itself. There is also a growing chorus of voices that are challenging the status quo of today's best practices and social constructs. So let's look at how this rapid pace of change is affecting nonprofit organizations on the Road Ahead in the fundraising marketplace.
… through the Essential Elements of Fundraising Success
The impact of the pandemic on our nonprofit sector has been far-reaching, but unevenly felt. Recent estimates indicate that giving in the US increased impressively in 2020, yet AFP's Fundraising Effectiveness Project (FEP) tells us that donor retention rates were at an all-time low of 44 percent. Contributions to human services, public-society benefit and environment/animal organizations surged while health and arts sector organizations saw significant decreases. The personal experiences of our donors and volunteers, and especially our clients, stakeholders, and constituents, have been equally disparate with some struggling with isolation and job loss while others enjoyed benefits of a robust stock market. Now, as we re-emerge from the unimaginable circumstances of the last 16 months, we must embrace the forthcoming opportunities and challenges. But how does one navigate the road ahead?
The work of our firm has been guided by a confident understanding of the essential elements of fundraising success. Certainly we can all acknowledge tremendous advances in our nonprofit sector and growth in our fundraising methods, but has the most recent pandemic, and rapid changes in our broader culture and society now changed the playbook?. To that end, we feel compelled to share this new blog series exploring whether these time-tested and proven elements of success are still valid . . . or did things really and truly change?
Our last series of Blog entries were sent to you in the first months of the pandemic, when the world first began to experience the full extent of the Covid-19 emergency. We begin this new Blog Series, to be shared with you over the next three months, with an examination of the traditional elements of success:
Element #1. A solid organization
Historically, our advice to organizations was to stress their capabilities and accomplishments to demonstrate they are worthy of the donor's investment: what the organization does, how it communicates its purpose, and how it presents itself to the philanthropic marketplace. The ability to communicate value and relevance during the pandemic was the priority. Do you have any clearer understanding today of how and why (or why not) people associate with you and value the work of your organization?
Element #2. A worthwhile project
Whether your campaign seeks to raise annual, capital, or endowment support – or some combination of the three – the funding objectives must be perceived as one that meets an urgent community need through increased organizational capacity.  Both the pandemic and the death of George Floyd redefined the meaning of urgent, and may have shifted the philanthropic focus of your donors.  Did it also change their thoughts about the urgent need to support your organization's programs and services?  Did your donor's change they way they now see your organization?
Element #3. A compelling case for support.
The engagement of stakeholders, constituents, and influencers by concisely and clearly stating the "why" of your existence is as critical as ever. Organizations who failed to acknowledge the impact of the pandemic on their community, their programs, and their bottom line were disingenuous. Likewise for those nonprofits who stretched the truth when describing their "Covid relevance." Not all of us were on the front line of services during the last 16 months. Does that make your case any less compelling? How will you craft your case for support in 2021 and beyond, and what form will your messaging adopt?
Element #4. Availability of sufficient financial resources.
For many nonprofits in the social service sector, the past 16 months brought with it new donors, new virtual methods of giving and seemingly new opportunities for nonprofits to build relationships. But are these new donors likely constituents who have both the interest and capacity to support you at a more significant major gift level? Check out the aforementioned FEP attrition rates again? Are you really doing as well as you think you are?
Element #5. Qualified and committed volunteer leadership.
A qualified volunteer leader is enthusiastically amongst the first to step up to make their financial commitment and eager to advocate for the gifts of social and financial peers and colleagues. Yet, Covid largely eliminated the social interaction of our donors and constituents. Organizations are employing new broad-based and mass appeal methods while also employing major gifts officers to directly solicit support. Has the concept and role of volunteer leaders in the fundraising process completely changed forever?
Element #6. Pacesetting leadership gifts.
Broad-based social media campaigns can backfill a major gift effort and are important to helping establish a groundswell of constituency ownership, but building a large community to achieve significant funding goals will undoubtable take longer – hence the role for leadership gifts. What's the pace you need to set to appropriately respond to the problem(s) you seek to resolve?
Element #7. A realistic and well-executed plan of campaign.
Donors, volunteers, clients, and bystanders want you to have a plan! Your ability to rapidly rethink services and programs during an unprecedented global crisis has been duly noted . . . you made it, now what? What is the timeline moving forward, will volunteers agree to meet with others, in-person? Will you diversify your funding mix and actually involve more donors or will you again rely on a small number of large gifts to reach goal?
In the coming weeks, we look forward to bringing you thought-provoking takes on current and future trends, and what it may mean for the nonprofit sector. Welcome aboard as we carefully explore how to navigate the road ahead toward fundraising success.
Links to our Previous Covid-19 Blog Posts: