Creating a New Cultural Attraction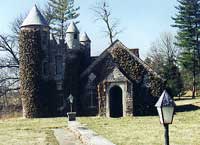 Yew Dell Gardens is a unique botanical garden and arboretum developed by the late Theodore Klein, a prominent nurseryman and plant expert, on 33 acres near LaGrange, Kentucky, northeast of Louisville. Following Mr. Klein's death in 1998, a group of culturally minded community leaders in the Greater Louisville area organized themselves as the Friends of Yew Dell, to save the Gardens from redevelopment and preserve them for public enjoyment.
The Oldham County Historical Society engaged Goettler Associates to conduct a planning/feasibility study. The study tested a $4.8 million program to purchase and renovate the existing properties; develop additional facilities, exhibits, and programs; and establish an endowment.
Based on the results, the firm recommended a phased development program. In Phase I, $1 million or more would be raised in order to purchase the property, sustain operations, and prepare a site plan and business plan. Phase II would seek an additional $2.5 million to develop the property into a major cultural attraction.
Over the succeeding four months, Goettler Associates provided periodic consulting services to assist the Friends in preparing for the Phase I campaign. During this period, the case for support and campaign plan were prepared. Prospects for major gifts were identified, and a leadership awareness program was initiated in order to introduce them to the project.
From this foundation, the development of the Gardens has steadily gained momentum. Yew Dell Gardens, now separately incorporated, received grants of $500,000 from the James Graham Brown Foundation and $75,000 from the Gheens Foundation. In the same year, a full-time director was hired, and a stabilization plan was completed by the Garden Conservancy (a national organization dedicated to the preservation of historic gardens).
Considerable restoration and renovation have been completed, and public tours are now offered. A full-time development and marketing officer has also been hired, and a membership program has been launched.
"We're very excited about making this wonderful cultural resource accessible to the public," says Mary F. Rounsavall, president of Yew Dell Gardens. "We're grateful to Goettler Associates for helping us get off to such a strong start."