New Union Hospital expected to open in early 2010
And with the new facilty comes advanced technology
by Howard Greninger
The Tribune-Star TERRE HAUTE —As tempered glass walls begin to take shape between steel girders, part of a $185-million expansion/renovation project, Union Hospital already is preparing to use some advanced technology in its existing west building starting April 1, 2009.
To read the full article, click here:
It's technology that also will be incorporated throughout the new 500,000-square-foot hospital, expected to open in early 2010. The hospital is incorporating an Internet-based telemedicine program into its intensive care units, said Scott L. Teffeteller, executive vice president and chief operating officer of Union Hospital Health Group.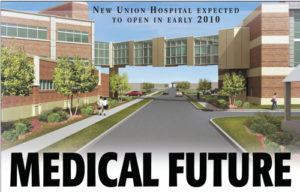 Specially trained physicians who focus on the care of the critically ill or injured, called intensivists, will monitor, along with nurses, hospital patients 24 hours, seven days a week at a medical center in St. Louis, Mo.
Research shows where an intensivist manages or co-manages a patient, mortality rates drop, according to the Leapfrog Group, a consortium of health-care companies that target safety, quality and cost of health care. However, there are only 6,000 board-certified intensivists in the country.
That means only 20 percent of the 6,000 ICUs nationwide have an intensivist on staff, and only 4 percent of those ICUs are covered on a 24-hour basis, said Scott Turner, vice president of marketing at Advanced ICU Care, a licensee of VISICU Inc.'s eICU trademark system. Advanced Care currently monitors 12 hospitals in five states, with that expanding to 14 hospitals, including Union Hospital, by June, Turner said.
The eICU system will use a television screen with a camera to allow an intensivist to see and speak with patients and nurses in ICU units in Terre Haute, as well as at Union's Westcentral Community Hospital at Clinton. That facility will be renamed Union Hospital of Clinton effective June 1, said Kristi Roshel, hospital spokeswoman.
The ICU unit, along with hospital rooms, will be linked into the hospital's integrated computer program from Evansville-based Innovative Workflow Technologies.
"We have hospitalists, where a physician makes rounds, as a lot of times the family practice physicians are unable to come in, and the hospitalists manage [some of the patients] while in the hospital," said Annette E. Smith, nursing care manager at Union Hospital.
"The same thing with intensivists, as they will manage a patient while in the intensive care unit," Smith said. Monitoring equipment will transmit its information to St. Louis, where physicians and nurses look for any changes or trends.
Examples of such changes could include "labs are going up or down in small increments or we have noticed blood pressure dropping in small increments," Smith said.
"They have trending software to keep a watch on anything that might be changing. The nurses here do a great job of watching that, but this is like having a second set of eyes to keep a close watch. The intensivists would be able to call, write orders or bring on the camera within the room to access the patient, talk to the patient and the nurse that is in there," Smith said.
"They are not taking the place of the family doctor, but are working with the family doctor, and will notify and talk to that family physician if anything has changed or is going on through the night," Smith said.
The eICU system is expected to reduce ICU mortality rates at Union Hospital a minimum of 10 to 20 percent, Turner said. It also is anticipated to reduce the length of stay in the ICU a minimum of 15 percent, and reduce the total hospital stay for ICU patients a minimum of 10 percent, Turner said.
"There are cost savings with those reductions, but more important for Union Hospital is effectively managing the patient population. They are at 93 to 94 percent capacity, and that is full. To the extent they can drive more patient volume through the same footprint, that will improve quality, safety [for patients and staff] and the financials of the hospital," Turner said.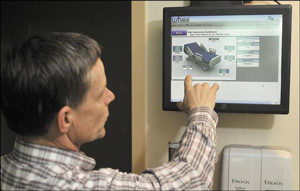 Technology in hospital rooms
Technology in the new hospital will include touch-screen TV monitors in nursing stations and inside a patient room for nursing and medical staff. In addition, when a staff person enters a patient room, a radio frequency identification tag on a staff badge will log when the nurse or doctor was in the room and how long.
A touch-screen monitor in the room allows information to be logged for work such as a skin assessment. "Typically nurses are writing stuff on their hands or whatever they can find because they may get interrupted two or three times getting back to a place to chart, and they can do all the assessment right here," Kym A. Pfrank, vice president/chief information officer for Union Hospital Health Group, said while demonstrating a monitor in a mock hospital room built to test technology and workflow.
Other aspects include beds that weigh patients, plus record details such as if a bedside rail has been lowered, or if a bed position has been moved. "The nurse will know that through an alert," Pfrank said. In addition, a camera in the room will allow a nurse to see and speak to a patient.
Each room will have flat-screen television, which provides added features allowing patients to access the Internet, order room food service and control the room temperature.
"There have been approximately 60 changes made to this room based off the caregivers' input. They have actually come up here to the mock-up room, which has allowed them to say you know I wish that cabinet was here, versus there; I don't like that window, I would rather have this; it would be nice if all the outlets were here, versus there. So they have actually been able to design this room that will optimize their ability to take care of patients, and I think that is a key component," Teffeteller said.
The new hospital will also have 14 bariatric rooms, all with overhead rail and lifts, to help assist people weighing 500 or more pounds into showers and bathrooms. In addition, another 40 rooms will have lift assists, replacing the use of mobile lift assists, to help patients get in and out of a hospital bed.
"Our average nurse is about 47 years of age, so it is to make it user-friendly on the nursing staff and to prevent patient injury. I think it is a huge safety feature for both the staff and patients and really maintains the dignity of those patients, as well," Teffeteller said.
The hospital will include 14 isolation rooms on each wing, Pfrank said. "The rooms have negative air flow, for true isolation," for patients with highly contagious diseases such as tuberculosis, he said.
An elevated helicopter landing pad is also being built. The pad includes its own collection area for drainage and containment of any fuel spills.
The hospital will be the main building in Union's medical campus, which includes the Professional Office Building, Landsbaum Center, Hux Cancer Center, Bone and Joint Center, Service Center, and a new dialysis center nearly completed on Fourth Street. In all, the campus will have about 1.3 million square feet of space, Pfrank said.
Workers construct and contribute to hospital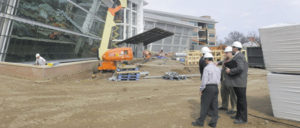 Workers last month began installing large tempered-glass panes that will make up nearly all the front of the hospital and is a centerpiece of its new main atrium. The current hospital (west building) has 100-foot long hallways. The new hospital has 300 foot-long hallways, with patient rooms on the exterior of the building and nursing and staff rooms on the interior, reducing noise to patient rooms.
One slight delay in construction has been cold weather for workers putting on a fireproof coating on steel beams on the front atrium. "When it is sprayed on, it doesn't flow very well because it is real thick, so it brings some challenges in the cold weather," Pfrank said.
Pedestrian walkways are being constructed over Eighth Avenue to connect with the Professional Office Building and over Beach Street to connect to Hux Cancer Center. Construction of the hospital project is to be completed at the end of October, with the hospital opening in early 2010.
The hospital sold $177 million in bonds for the project, which includes a renovation of the existing west building. That requires Union Hospital Foundation to raise $8 million. As of March 12, the effort is at 92 percent of goal, raising more than $7.3 million, said James Bertoli, executive director of the foundation.
That includes more than $4.2 million from a hospital "family campaign." That amount includes more than $1.19 million from employees and more than $2.11 million from medical staff. A general community campaign has raised more than $3 million.
Some of the gifts have been from businesses, individuals and unions involved in the project. "We have received $280,500 to date from contractors, subcontractors and unions that are working on the project," Bertoli said. "Part of it is gratitude for the fact that we have kept things local and wanted to give back to us for helping them."
Bertoli said even individual workers have contributed, with the foundation receiving about $600 from individuals, not part of a collective union contribution. The hospital construction currently has about 450 workers on the job, but over the course of the entire project, it has included about 600 workers, Pfrank said. Ninety-seven percent of the workers on the project are from the Wabash Valley.
To help with fund raising, groups and individuals can obtain naming rights to areas such as the gift shop, which was done by the Service League of Union Hospital for $250,000, or a surgery/recovery wing, claimed by the estate of Allen & Millie Felstein for $1.4 million.
Bertoli said the foundation has more than 150 prospective donors it intends to reach through the end of April. Jerry Einstandig, chairman of the fund-raising effort named Distinctive Past, Exceptional Future Capital Campaign, said he expects the campaign's goal will be reached and possibly exceeded, by the end of April.
Howard Greninger can be reached at (812) 231-4204 or howard.greninger@tribstar.com.
What to know
Naming rights for sections of the new Union Hospital, now under construction, have raised more than $4.23 million. So far, naming rights to all nursing stations in the new building and the future renovations to Union West have been claimed by various donors. The hospital is at 92 percent of its $8 million goal.
Some of the major areas in the new building that have been claimed by donors include:
Lower Level
Gift Shop by Service League of Union Hospital
Medical Library by an anonymous donor
Physicians Lounge by Pepper Construction
First Floor
Surgery/Recovery/PACU by the Estate of Allen & Millie Felstein
Lobby Café by the Meissel Family and an anonymous donor in memory of Joyce Meissel
Emergency Department Waiting Room by Providence Medical Group
Emergency Department Break Room by TransCare
Emergency Department Trauma Room by EmCare
Atrium Feature Wall by an anonymous donor
Second Floor
Intensive Care Unit Coronary by Providence Medical Group
Fourth Floor
Waiting Area by Pepper Construction
To date, the hospital has received $280,500 from contractors, sub-contractors and unions. Those include Garmong Construction, Pepper Construction, Plumbers & Steamfitters Local No. 157, Laborers Local No. 204, Quality Connection of the Greater Wabash Valley Inc., IBEW Local Union No. 725 and the Central Indiana Chapter of the National Electrical Contractors Association (NECA), United Brotherhood of Carpenters, Industrial Supply, Vigo Interiors, Crossroads Door & Hardware, Tri-State Fire Protection & SDR Coating.
Source: Union Hospital Foundation
http://www.unionhospitalfoundation.org/