New information released from AFP's Fundraising Effectiveness Project (FEP) indicates that we have some new rules to learn on what matters most and how to get to goal.  We love all the new tools and resources available to nonprofit organizations to get their message out, and to build online relationships with new donor constituents through social media.  And, everyone is excited about new online giving tools.  But, when it comes to what development personnel need to focus on to get to goal – we have some new rules to learn.  FEP analysis says that 96% of contributions comes from only one-third of all donors, and just four percent of all donors will contribute about three-quarters of your total.  The new rule states even more emphatically that it is still all about major gifts and fundraisers need to focus on the top of the gift chart.
As a fundraiser, you probably know the 80/20 rule: About 80 percent of your gifts will come from approximately 20 percent of your donors.
The 80/20 rule is based on the Pareto concept: a small proportion of causes produces a large proportion of result. The general 80/20 rule appears in many different professions, including science, sports, computer software, and occupational health and safety.
Today, with better technology, research projects like the Fundraising Effectiveness Project (FEP) can drill down into detailed giving data from thousands of charities. And we're learning that the 80/20 rule, while a useful rule-of-thumb, it isn't as precise as we need.
Applying the Pareto Principle to data from the AFP-sponsored Growth in Giving Initiative enables FEP analysts to consistently give us new research-based rules, or ratios, that as fundraisers, we need to understand. Most importantly:
Seventy-six (76) percent of contributions comes from four (4) percent of donors—those who have given $5,000 or more.
That's right, basically three-quarters of giving comes from the top four percent of our contributors!
Furthermore, as shown in the graph below, the corollaries to our new 76/4 figure are:
89 percent of giving comes from the top 14 percent of donors (those who've given $1000 or more) and

96 percent of giving comes from the 33 percent of donors who gave $250 or more.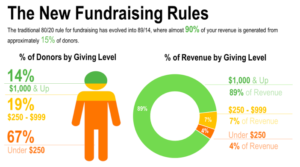 Try this for a truly sobering figure about how top-heavy giving can be: two thirds of donors (67 percent) account for only four (4) percent of giving!
These are the new Pareto figures for fundraising. Now, of course, your analyses may vary. Every charity will be different.
For this analysis, FEP selected data from the Growth in Giving Initiative (GiG) Database at the Urban Institute for 7,015 small-to mid-size organizations.  These organizations raised $6 billion in 2016 from over six million donors. GiG Database providers include Bloomerang, DonorPerfect, Neon and eTapestry (Blackbaud). 
But these findings have remained steady through the last six years of data that the FEP has been tracking giving (and receiving more and more data from an increasing number of participants).
What do we learn from these figures? Three things. First, think about those two-thirds of donors who gave less than $250 and account for about four percent of giving. How much are we spending on them? How are we cultivating them? A lot of people in that group might be new or one-time donors, and we know from other FEP data that donor retention rates for new donors giving under $100 average around 21 percent. If we can turn some of these under $100 donors into, for example, $20/month recurring supporters, we can dramatically transform our giving.
Second, we must identify our key $5,000 plus supporters—as well as potential key supporters—and enhance our donor cultivation efforts for them. Cultivation is critical! Identifying top supporters is easy, but it's the supporters one or two tiers down— those in the $250 to $999 category, but not yet in the $1,000 up category—that we need to understand and engage with.
Third, we can use new technology to gain even more detailed and accurate data about fundraising—but we must use it! There are great tools, such as AFP's free Fundraising Fitness Test, on the FEP website (www.afpfep.org/tools) that you can employ to benchmark and analyze your own giving data
I encourage everyone to participate in the FEP and provide their giving data to the project. Working with fundraising software providers, the FEP takes steps to ensure that the data used is anonymous. Talk to your provider if they're not already involved, or contact the FEP (at fep@afpnet.org) for more information on how to help.
To be the most effective and efficient fundraisers possible, we need the most accurate and detailed data possible. The Fundraising Effectiveness Project is a valuable tool in improving fundraising and understanding what is working, what isn't, and where we should best focus our efforts.
Our new rules for success, like 76/4, are a direct result of having the best data. It's time we all got involved for the betterment of our individual organizations and the professional overall.